Awareness/Impression Survey of Blockchain-games in Japan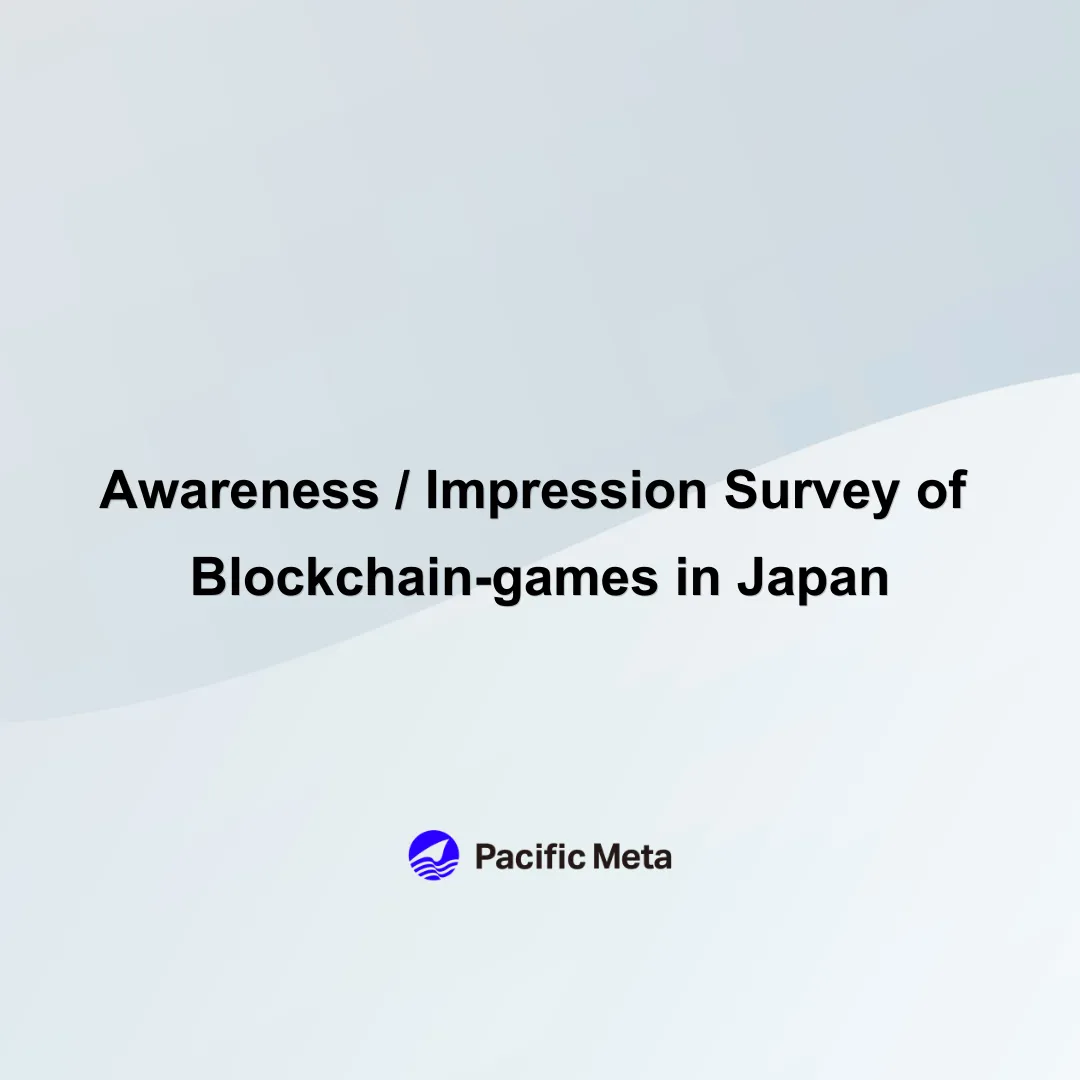 Since there were no survey results on the blockchain game market in Japan, we, Pacific Meta, conducted a survey to find out the awareness and impression of blockchain in Japan.
The survey was taken by 1,030 men and women in their 20s~70s in Japan.
Here are the highlights:
About 40% of Japanese people are aware of blockchain games.
About 90% of Japanese people have a neutral or positive impression of blockchain games.
When playing blockchain games, many Japanese people consider it important that they can play for free, play on their smartphones, and receive many rewards in the game.
Awareness of Blockchain Games in Japan
According to the survey, 40.2% of the people surveyed said they knew about blockchain games.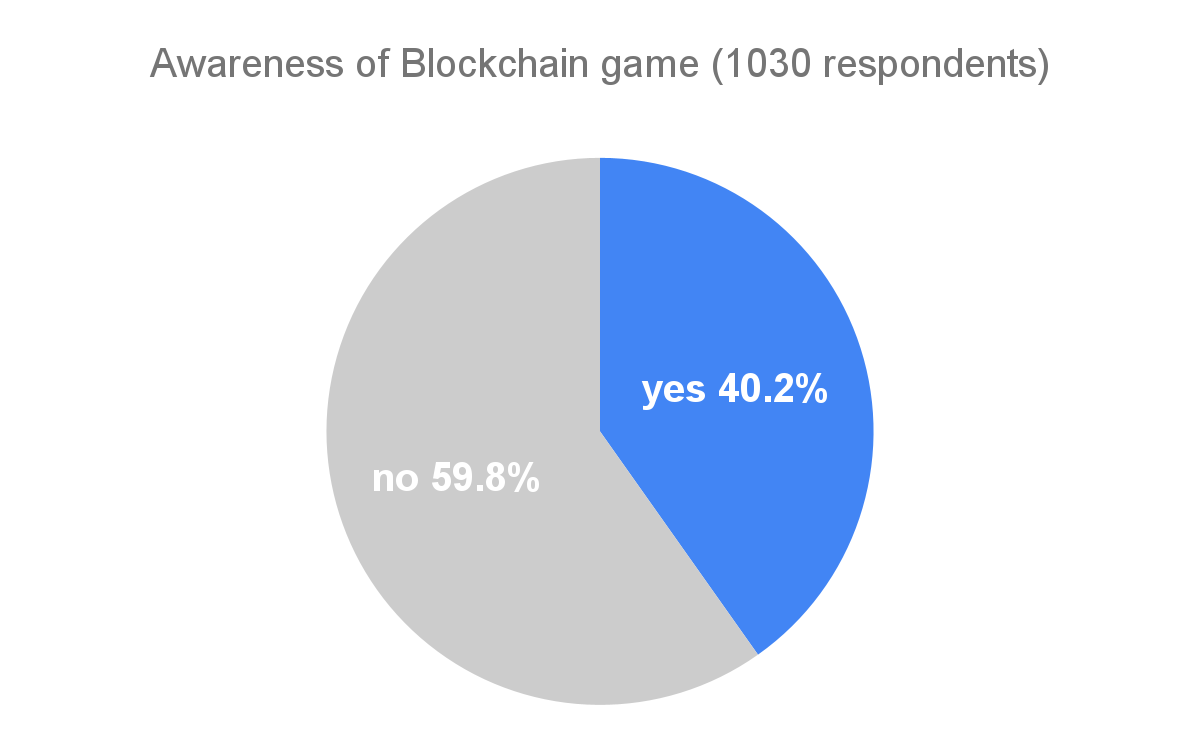 Impression of Blockchain Games in Japan
Next, we surveyed the respondents who knew about blockchain games (414 respondents) to determine their impressions of blockchain games.
The results show that of those who had heard of blockchain games, 56.8% had a positive impression of them.
The percentage of those with a negative impression was only 10.1%.
We found that the vast majority in Japan have neutral or positive thoughts about blockchain games. compared to countries such as Western countries where there are certain number of people who have negative thoughts about blockchain games*1.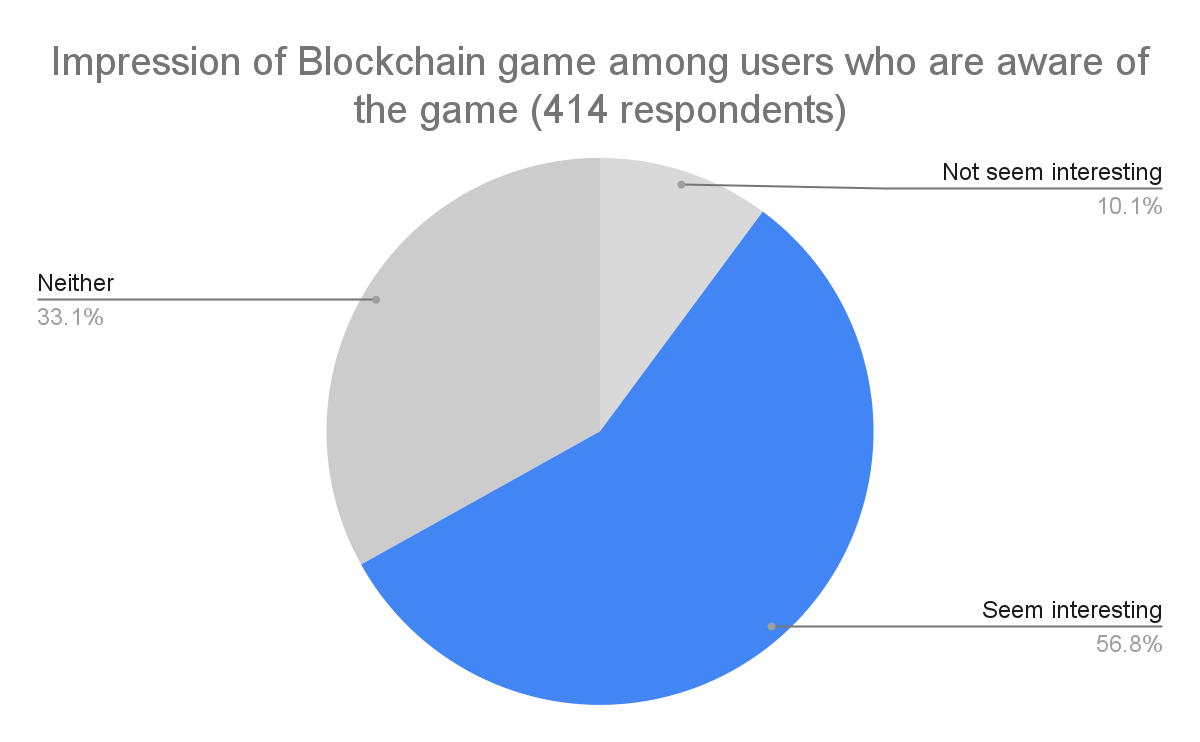 A similar survey of 1,030 people, including those who were not aware of blockchain games, was also conducted on their impressions of blockchain games.
According to the following survey results, 48.6% had a positive impression, 41.0% had a neutral impression, and only 10.4% had a negative impression.
From this we can see that only 10% of respondents have a negative impression of blockchain games, regardless of whether or not they have knowledge of them.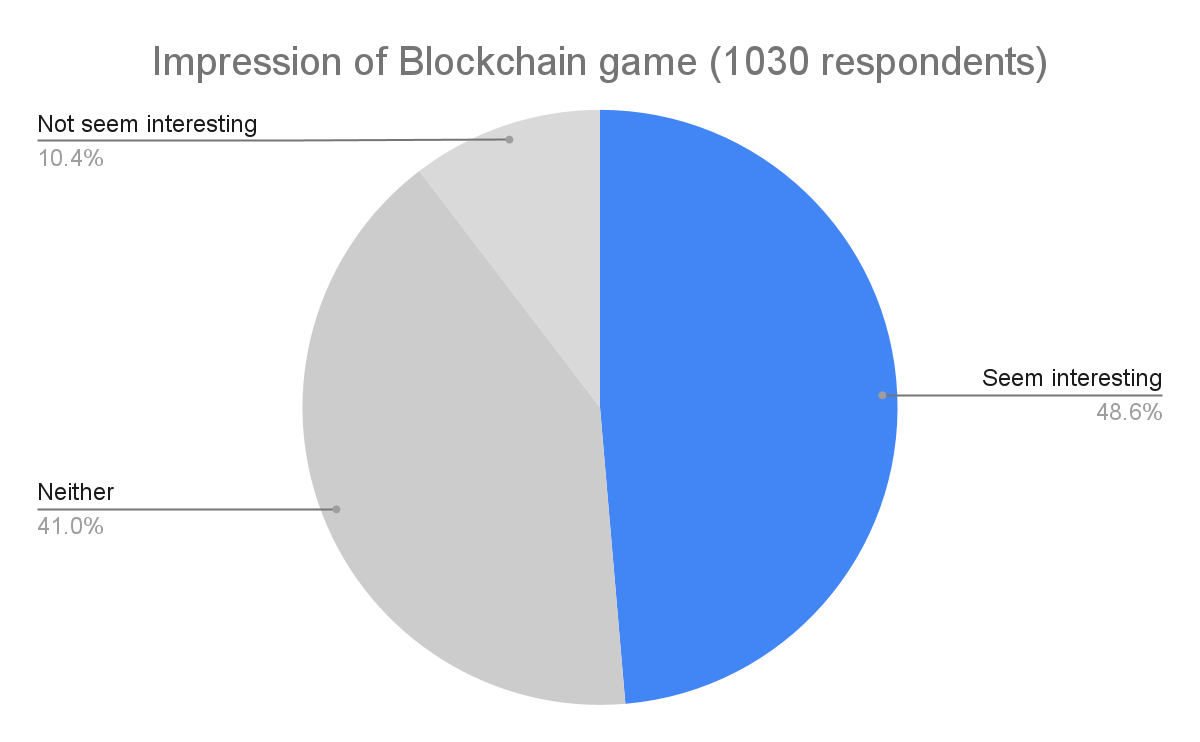 Blockchain Game Features
Finally, we surveyed 1,030 people to find out which blockchain game features spark interest in playing.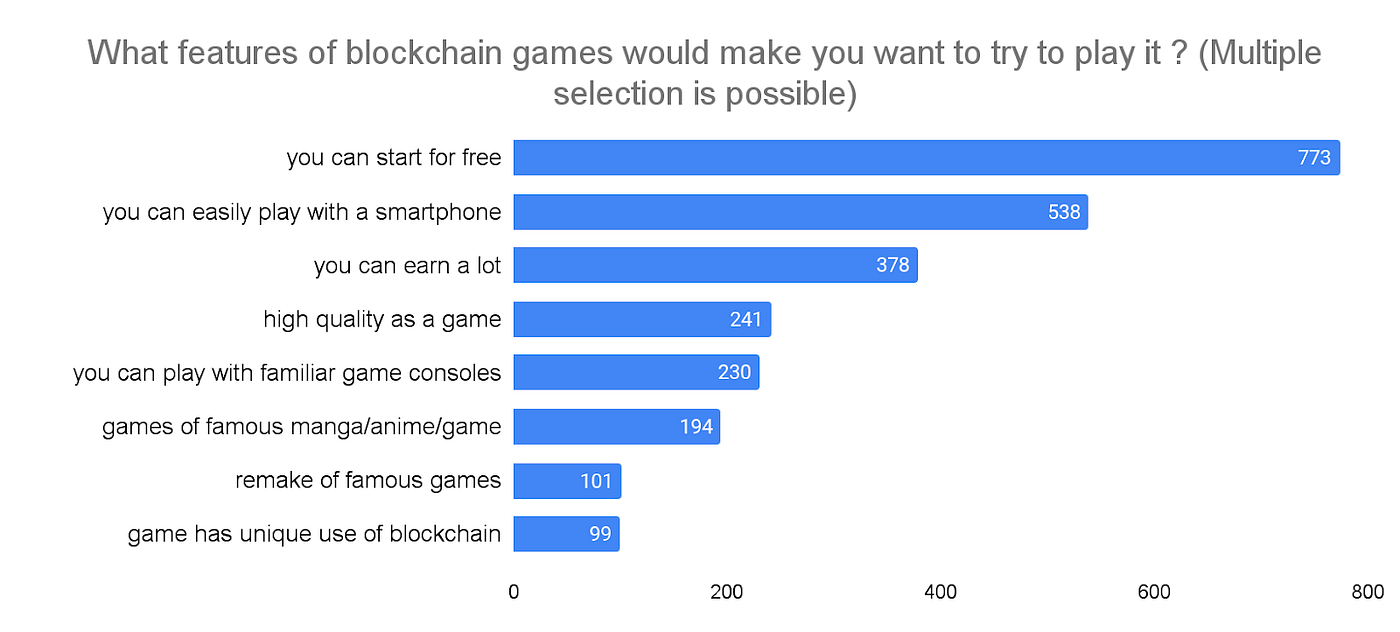 Most of the respondents considered starting for free (773 respondents) to be important.
Many respondents also showed a preference for games that are easy to play on a smartphone (538 respondents) and give them the ability to earn a lot (378 respondents).
In addition, some respondents considered the quality of the game (241 respondents) and whether it can be played on a home video game console (230 respondents) to be important.
Others said that they want to play games featuring famous comic/anime/game characters (194 respondents) , remakes of famous games(101 respondents) and games that have unique use of blockchain technology(99 respondents) .
In Summary
Our survey showed that 90% of the respondents in Japan have either positive or neutral impressions of blockchain games, indicating that the public is already interested in blockchain games.
We found that in order for blockchain games to catch on in the Japanese market, it is ideal that games are available on smart phones. In addition to this, it would be preferable if games contain both free-to-play and play-to-earn elements.
Since the market size of mobile games is bigger in comparison to PC and console games*2, primarily targeting the smartphone game market will increase the possibility of attracting a large number of players.
Japan ranks first in the world with the highest number of in-app purchases including game apps*3. While many games can be played for free, Japanese people are willing to pay to have advantages in the game.
If a game wins the hearts and minds of Japanese people, it may encourage users to spend money on it, even if it is a blockchain game.
In addition, we found that a certain number of people have the image that blockchain games have potential to earn cryptocurrency.
The research results reveal a significant potential for blockchain games in Japan, indicating a growing interest among Japanese gamers for innovative and engaging gameplay experiences that leverage blockchain technology.
In particular, games that are designed with mobile accessibility and play-to-earn features in mind have a greater chance of resonating with Japanese gamers, who are widely recognized for their willingness to invest in their gaming experiences.
In conclusion, the results suggest that blockchain games have the potential to become a major player in the Japanese gaming market.
Sources
news top